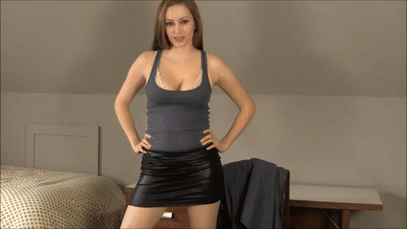 Number 6 in a custom sissy training series. Have your own program you want to be held accountable for? Read about custom videos HERE: http://missvikkilynn.com/custom-videos/
"Custom Video: your gorgeous bottom destroying and punishing me – again, this time, because I was late on my last response, I am not allowed any relief in my bottom throughout the clip, and I am immediately to shove my huge plug in, and keep it there throughout the clip. Removing it only once done, and licking it clean.
You enjoyed the pain you caused me by making me use clothes pegs during the last one, but you didn't think i got enough on my tiny balls. So this time, every time you show me your bottom, you want me to put three pegs on, not one; and at the same time, as the last clip,I am to deep throat my rubber dildo, holding it in my throat until you turn back and hide your bottom when I am allowed to slip it out – if I am sick, I lick it up. You show me your bottom throughout as usual, laughing at the pain you know you are causing me.
As ever, you show the evidence of my last clip to the camera, and tweet your favorite photos, laughing at my continued public humiliation and depravity for you.
You tell me that if I run out of space for clips on my balls, I am to start on my sissy nipples, and if I run out there, then onto my lips, tongue and ears.
Then you start to describe my tasks, which are:
You enjoyed my dancing outfit, with black hotpants and shiny top so much you want me to humiliate myself in it some more. First I am to go to a hotel, and parade around in the corridors for 5 minutes, then I am to put a long coat on, and go to a local park, leave my coat in the car and walk around like that. I am to have a huge dildo in my bottom throughout, and you want a photo of me on my hands and knees in the mud, bottom up, waiting for a guy to replace the dildo with his thick cock.
Next you want me to put back on my mesh body suit, and team it with a tiny denim mini skirt and my stripper heels. You want me to go to a friends house when they are out, and kneel down by the front door for an hour, so I am totally humiliated should she come back un expected. Half way through my wait, I am to get up, and open the front door fully, standing like a slut waiting for my clients. Of course, I have my huge butt plug in the whole time.
Final public, one to make you laugh – you want me to get a bright pink catsuit, a rubber pig tail butt plug and get all dressed up like a pink piggy, plugged with my tail, and go to a farmers field – it has to be a bright, sunny day, and I am to roll around in the mud, in the field for anyone near by to see.
My private humiliation task is that you want me to buy a bottle of beer (or if really harsh, make it wine, in a bigger bottle) – rather than drink it, like a normal guy, I am to use it like a dildo, pushing the thick end first into my bottom to really rip me apart. I have to leave it like that for 20 minutes, then with it still in my bottom, pop the lid and allow it to pour down the toilet. Once done, I am allowed to suck some up out of the toilet bowl for a drink.
When the clip is nearing the end, you tell me that I am to suffer more pain in my pathetic balls – I am to tear the clips off, then I am to get a tube of icy hot (or deep heat, which is the uk equivalent) and squirt it all into the front of my knickers. Sitting with the burning on my clit and balls, the huge plug in my bottom, and the dildo in my throat – until the pain subsides. Only then can I wash it off, remove the plug and clean it, and stop sucking the dildo. You want a picture of me squirting the cream in, and it filling the front of my knickers."
Find this clip on @iwantclips HERE: https://iwantclips.com/store/2616