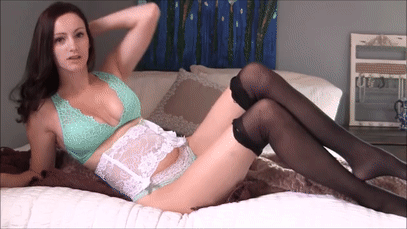 "Come on, I can show U how good it feels to be submissive & I'm the best in making strong man weak" I want you to be my slave! I can milk you in 10 min! Let's play a game! I order you to start to stroke & trying to resist as hard as you can to come. you concentrate not to come but you smile because you win this kind of games always. But what you do not realize, while you are so focused not to come, is the fact that I in the meanwhile begin to hypnotize you. It's going to be so hard for you to concentrate; as you watch me teasing & hypnotizing you. My feet,butt, legs, my warm words my beauty & cleverness, this combination is so powerful, suddenly you feel so aroused & weak & I'm using your arousal against you, the more aroused you become, the deeper you fall in my hypnotic trap, I send you deeper & deeper, you are getting more & more aroused. I told you that I can do now everything with you, even against your will & you realize now how helpless & weak you are, but it's too late,I have infiltrated your brain & there is no escape. you hate the situation & I smile about my upcoming victory! This makes you even more weak & aroused. In the end I count you to the most intense orgasm ever, you are lost forever.
IWANTCLIPS: https://iwantclips.com/store/2616
CLIPS4SALE: http://clips4sale.com/75307
-Find this clip on either site at any time by typing in the title to the search bar: "brothers blackout".
*NOTE: I create custom videos, read here for more information: http://missvikkilynn.com/custom-videos/