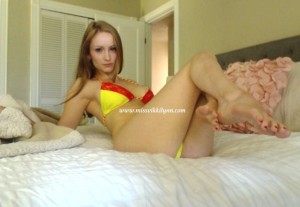 I'm bringing back snapchat just for summer, (June, July August) if I love it I may extend but I'm unsure at this time. I don't plan to do a lot of live camming therefor if you want to keep up to date with me, my horses, all my bikinis and adventures then snapchat is the place to be.
Snapchat cost is at follows: 500tkns if tipped via MFC, $50 tribute tipped via IWC, Clips4sale or Niteflirt PER MONTH. Here are some easy payment links:
You can pay via a tribute via iWantclips Profile  (best % for Me): https://iwantclips.com/store/2616 
Niteflirt Profile to Tribute (2nd best % for Me): https://www.niteflirt.com/MissVikkiLynn# 
http://clips4sale.com/75307 <—tribute button can be found right above the first displayed clip-hand with a cash money sign-CLICK that (3rd best % for Me)
You can pay with an amazon gift card: https://www.amazon.com/gp/product/B004LLIKVU/gcrnsts?ie=UTF8&qid=1390165045&ref_=sr_1_1&s=gift-cards&sr=1-1
I will now also be accepting other forms of discreet payment. I prefer payments like tributes aka cash form.
Wishlist gifts do not count.
You will be taken off when the month ends, if you want a renewal email please make sure to say so and I will email about renewing your snapchat "membership". If not I will not be emailing.
Snapchat's will be anything from clothed to topless to nude to teasing to well whatever I feel like sharing 😉
Any questions just ask, email sweetkittykatblow@gmail.com