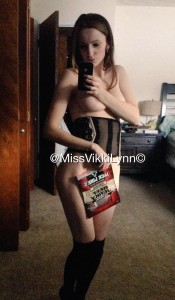 Yes this is the real MissVikkiLynn with a new blog here on wordpress hosted on my own private domain. No more censorship and not being "allowed" to post adult explicit content or links if I so desire. This makes me VERY happy. Big thank you to everyone who emailed, tweeted and held my hand telling me it really wasn't that hard to make a wordpress blog. It's true, it's not so bad! I'm getting the hang of it and asking questions when I need too on twitter. If you have any helpful hints I'm always welcomed to hear them. After a long eye ball harming stint on the computer last night, here I'm, live and back in action.
Today I need to take care of some horse related things, house things and finding a new computer. Or trying too. So I'm going to cut this short and I will be back next week with sexy photos and personal blog posts-just what I know you all love.
Have a great weekend!
V