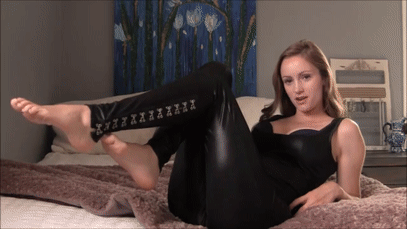 you worship My toes, legs, stomach and ass cheeks as I slowly take off the pants and top to reveal each body part so you can worship them next. The bra and panties stay on, sliding the panties aside just far enough so you could worship My asshole.
There's cbt throughout. Slapping and things more intense. For the first 5 minutes you are not allowed to stroke, only worshiping Me and cbt.
Then I edge me over and over until the very end. I decide where on My body you allowed to cum as long as you lick it clean.
Sometime towards the end I remind you that you still haven't earned the right to see My breasts or pussy.
IWANTCLIPS: https://iwantclips.com/store/2616
CLIPS4SALE: http://clips4sale.com/75307
-Find this clip on either site at any time by typing in the title to the search bar: "CBT and Edging Game".
*NOTE: I create custom videos, read here for more information: http://missvikkilynn.com/custom-videos/