The other day I tweeted asking for ideas about blogs you all feel would be interesting! I always like hearing what you would like to know more about. Below Dave expresses his interest in hearing more about cam show basics for newbies.  So lets call this an "Interesting Inquisitions" type of blog series.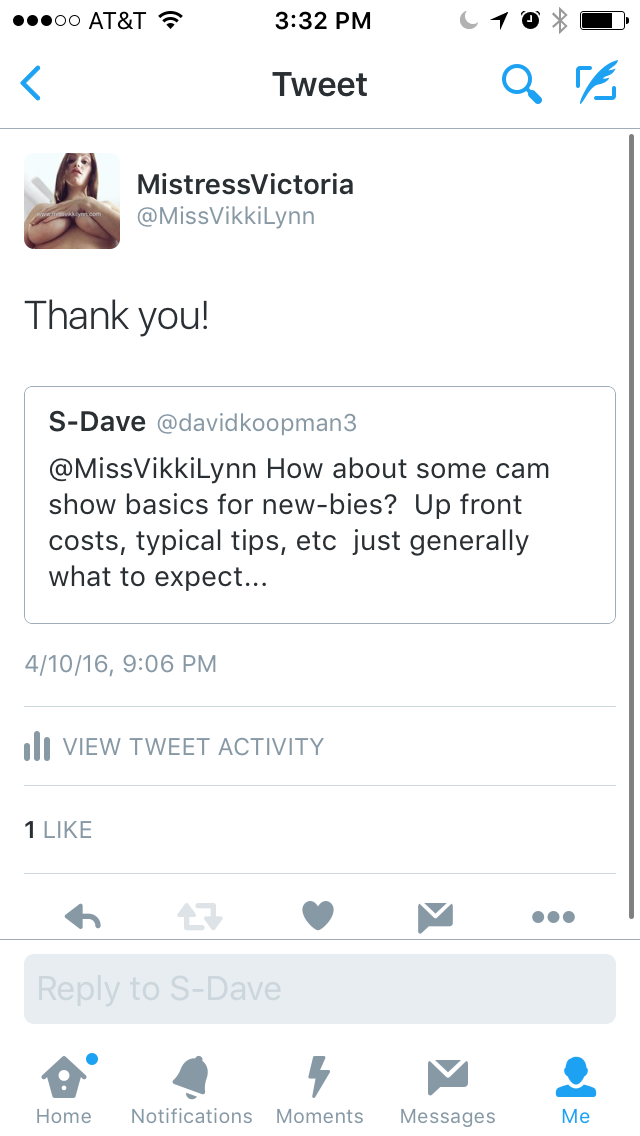 This is going to be quite tailored to my own personal ideals but please know this changes from producer to producer.
Many producers also have websites or blogs that touch on these subjects or read to read information available anytime to view. Or even youtube videos! (I do not have any youtube videos)
My tabs here on my blog are pretty explanatory though but I will divulge a little deeper here.
Also note I'm not currently taking online live sessions at this time but when I do this should apply and has in the past.
In the past 9 years I've given quite the variety of shows. I started out vanilla and evolved over time into more kinky things also known as fetish, female domination and erotic teasing.
You can obtain my skype ID with a $25 tribute. Why is it not free you ask? Well there would be 90% people wasting my time and only 10% end up paying so I do that to weed out those who are not serious about a session. Online sessions are currently $7/minute during the week and $10/minute nights and weekends. There are no other costs associated with that once you purchase a show. (unless you are into findom, tributes during shows, it's a show where one buys me clothes or sends amazon gc etc)
Some people tip (aka tribute) thank you's, others never do. This is not required. Every show and client is different in what they are looking for. This is also why I have a skype ID fee as then we can briefly discuss that before sessions.
Shows end at the minute that you paid for. If you want more time I will go off cam at the minute you paid for and you'll have to purchase more time and then we can start the video feed again.
If I'm logged onto myfreecams, camwithher or streamate this is automated by the system there. Once the tokens, dollars etc run out that is when the show ends unless you press end beforehand. There is no fee to enter those chat rooms. Myfreecams and streamate is live-though I do not ever do public shows. Camwithher is not live but you can enter a chatroom and type to me before entering a live show.
You do not have to appear on cam. If you want too this is called cam2cam. It's helpful in sessions where you are suppose to be listening to what I tell you to do and I can see that you are indeed doing it. I don't mind either way if you are on cam or not.
If you ever ask personal questions, act overtly creepy in the manner of trying to dig about my personal life the show will end and I will remove you from Skype.
If you waste my time saying you want a session, do not show up etc I will also remove you.
My Skype or online cam times are completely random I do not have a schedule and I do not live cam that often any more. I'm currently taking a break from everything at the time this blog has been written. You can still be added to my Skype as I do intend to return, just not sure when.
Patience is a virtue.
I will never contact you asking if you want to pay for a session. YOU must contact me with desired time(s) and type of show you are looking for. I will then coordinate something with you that fits both our schedules. If I'm not available it's most likely because I do not have any available time that my surroundings are quiet. I don't say no not right now for shits and giggles.
Hope this clears some things up, if you need more information or have more questions about this it is probably best you pay for some text to type time on Skype or an actual live session.