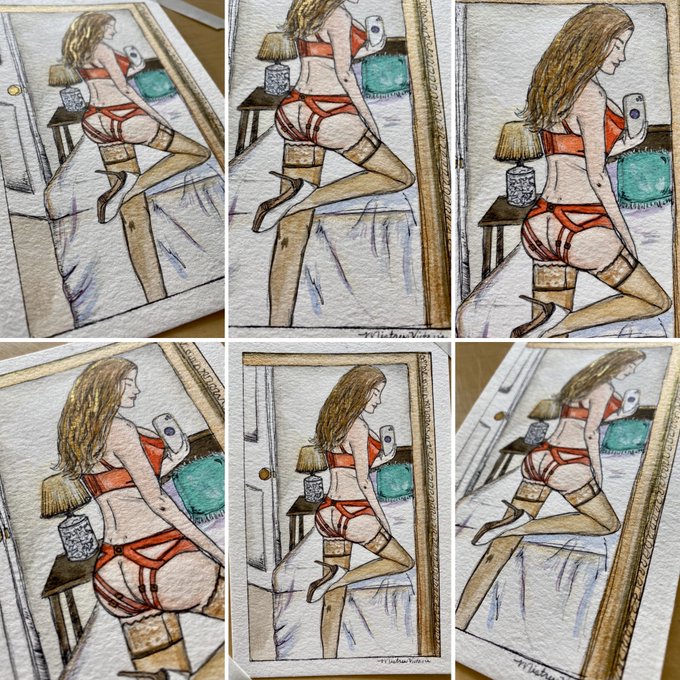 NEW! Erotic one of a kind painting. This is from a selfie photo of myself on my OnlyFans, if you are a member there then you caught site today in my stories of me creating this one. If you are not already on my onlyfans and purchase this drawing you will also get 5 photos similar to this one after payment.
If you have known me for any length of time you will know that this gold mirror in the painting is one I have owned for almost my entire career online. (12 years now!) It is iconic and something that I believe to be quite recognizable to my brand. Creating a painting of a selfie in front of this mirror was a lot of fun. Selfie "culture" is big especially when you are an online model. I think this is a fun representation of my work on multiple levels.

It is currently available for purchase as of 3/27/2020. (by tribute on my IWC https://iwantclips.com/store/2616/MistressVictoria or OnlyFans https://onlyfans.com/mistressvictorialynn) I will need a ship to address for this. As always your privacy is very important to me and no address or personal information will be shared from your purchase. All ship to information is deleted after I have mailed your item with tracking.
Send an email with the title "Gold Mirror Selfie" to purchase. Thank you for your support. -MistressVictoria
All My Creative Links-Customs, calls, clips, texting, art:
Fan Club https://onlyfans.com/mistressvictorialynn…
Clips, Customs, Call https://iwantclips.com/store/2616/MistressVictoria…
Text/Call https://sextpanther.com/MistressVictoriaLynn…
Call/Chat https://niteflirt.com/MissVikkiLynn
Clips https://clips4sale.com/studio/75307
Clips/Customs/Art https://manyvids.com/Feed/MistressVictoria/1004340444