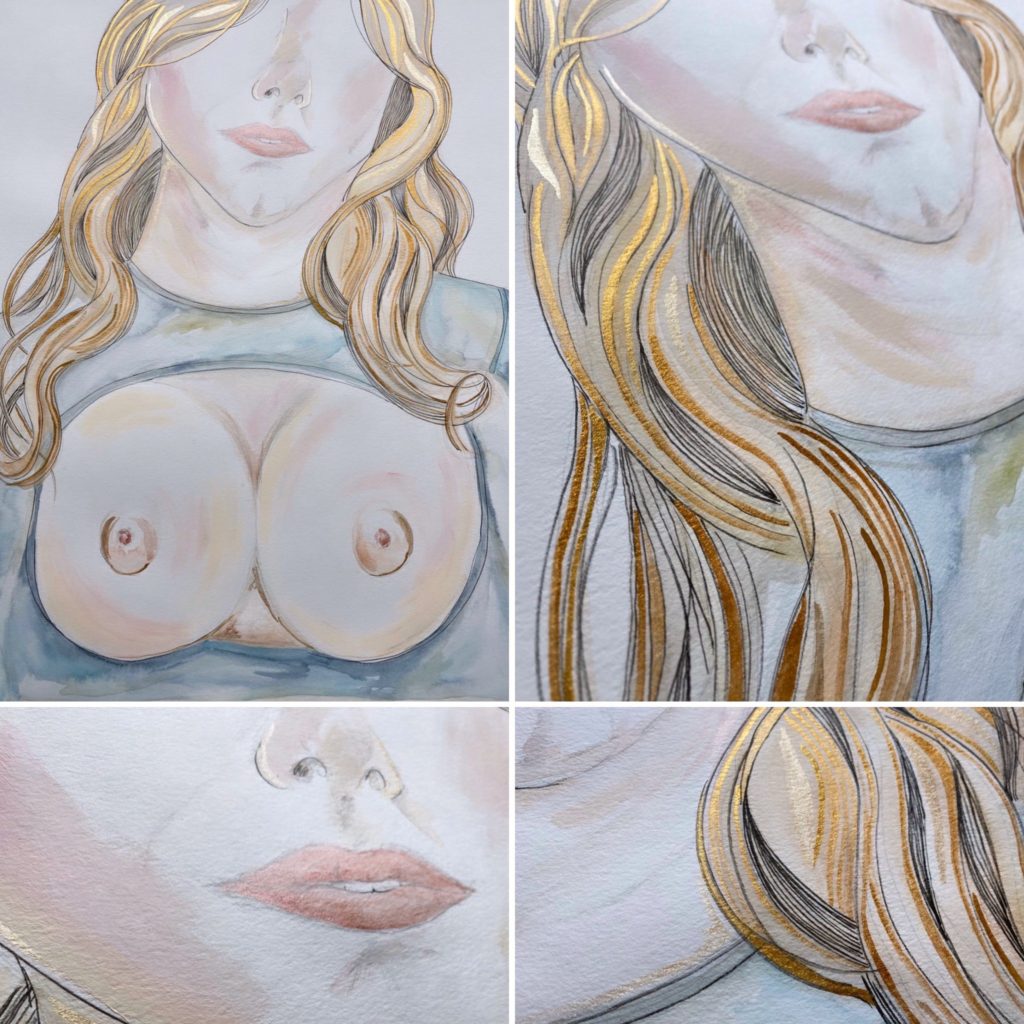 NEW! I've been working on this for a few weeks on and off and it is finally complete and ready for a new home. Will it be yours? This is a truly one of a kind piece of erotic art using myself as the muse. This is currently the only available piece I have but you can view some other past works on this new tab on my blog as well: https://missvikkilynn.com/erotic-art/
(If you are on my OnlyFans you have been seeing me work on this the past few weeks: https://onlyfans.com/mistressvictorialynn )
I've always been an artist and I'm over joyed that I'm starting to carve out some time to create some one of a kind erotic and femdom themed art pieces for my serious fans and collectors.
Art is and always will be an investment. An investment into your well being and also a financial investment. When we connect with art work and choose to hang it in our home it really is a special feeling. Art work especially by more well known artists usually accrues in value. Art and the collecting of it is a refined side of a person. It's never too late to start enjoying original art. Museums, galleries and right here. (waves)
It just may be more difficult for some to hang erotic art in their homes because of roommates, family, friends etc OR you may just not tend to care what others may think and hang this loud and proud in your hallway or right above your bed. I do recommend if you are more on the shy side if you have a walk in closet or office that most people do not frequent that may be a good spot for it. If you REALLY have to hide it, get a nice clear container that fits under a bed and slide it in there. Bring it out to worship-the ability to own something I created…then slide it back into hiding.
A recent collector told me that he almost started a video call chat for work with his art work of mine hanging in the background. OOOPS! (haha) Could have brought up some open ended questions… I always LOVE seeing how you decide to hang or frame my art work as well. If you make a purchase please share with me after.
I always recommend framing art with UV protected glass and backings to protect the longevity of the art work. Hobby Lobby and Michaels are two large art stores where you can purchase these supplies. They also do custom framing if you dare to bring this erotic art into them to handle. I believe Hobby Lobby is religious so maybe try Michaels or a more discreet framer in town that you trust. Do not hang art work in direct sun light and take care to keep any dust off the frame.
Well I think that is enough rambling for now, time for lunch and I do dare say I think a nap after. Lucky me. *wink.
If you have interest in purchasing please email me with your offer and subject line ART: mistressvictorialynn@bellateddyrambo2008
All My Creative Links-Customs, calls, clips, texting, art:
Fan Club https://onlyfans.com/mistressvictorialynn…
Clips, Customs, Call https://iwantclips.com/store/2616/MistressVictoria…
Text/Call https://sextpanther.com/MistressVictoriaLynn…
Call/Chat https://niteflirt.com/MissVikkiLynn
Clips https://clips4sale.com/studio/75307
Clips/Customs/Art https://manyvids.com/Feed/MistressVictoria/1004340444