The other day I tweeted asking for ideas about blogs you all feel would be interesting! I always like hearing what you would like to know more about. Below Kelle expresses her interest in hearing more about communicating your interests in adult work.  So lets call this an "Interesting Inquisitions" type of blog series.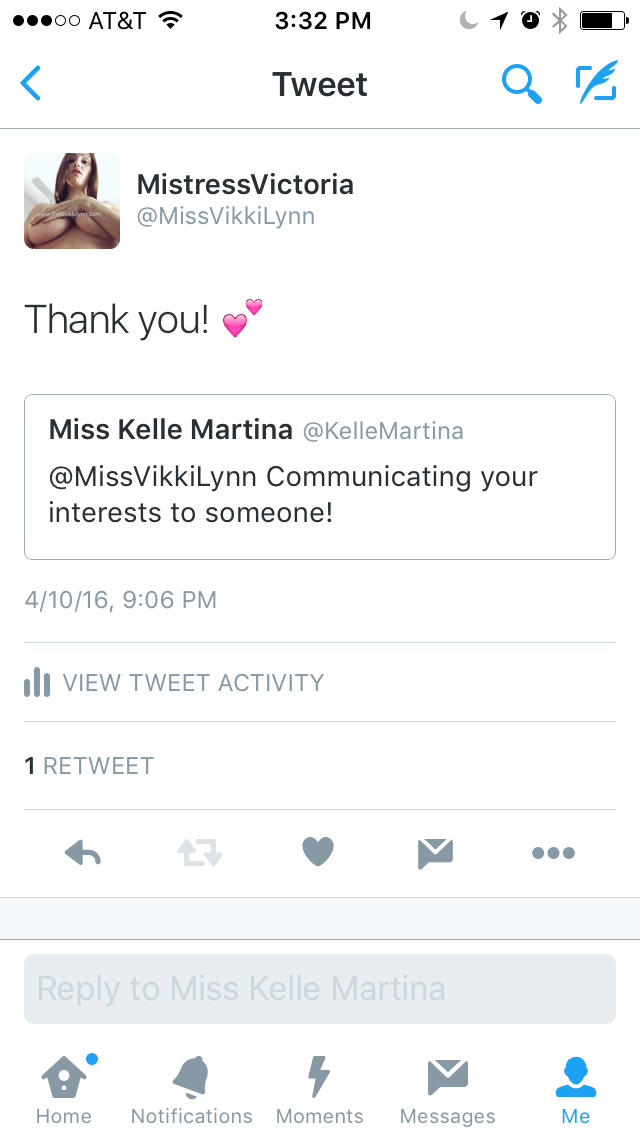 Great question!
Many people are socially awkward in person and much better online via email. Or really great in person but really horrible online.  Or on rare occasions you can have someone that is great at both things! (me! or least I can pretend to be good at both…yay acting!)
Either way, here we are, online-so let's talk about that.
When someone emails me it's so great when they start with addressing me, introducing themselves and what they are interested in purchasing.  Because in all honesty that is what the prime focus is for me having an email address that I share. The email (at the height of it's greatness) should resemble something like this:
"Hello Miss Victoria,
I'm a big fan of your work for quite some time and have been purchasing it for awhile. I'm truly interested in a custom video that includes ass worship, cei and some light humiliation. I'm looking for it to be around 10 minutes and or spend X amount at this time. If you are available to produce this desired content for me I would be very thankful. I will patiently await further communication.
Sincerely, -submissive joe"
See does not have to be extremely detailed to start (or even submissive in nature if you are not into that), starting the wave of communication is the second most important part…
What is the first? Why am I doing this backwards?
because that is what most people do… (lol sigh)
FIRST, the most important part of communicating with an online producer that you want to support is reading their blog and or website for information that helps you make a decisions. That is why they have it there. (well it's why I do at least) My blog for example on custom videos outlines prices, things I'm into, things I'm not into, scene locations etc.
The first and foremost worst thing you can do after reading my blog is emailing me saying: "I know you said you don't do x, y and x but since you did before in your clip store a few years ago I'm wondering if you'll -que insane long email with insanely detailed script containing things I already quite clearly said I'm not into doing-
No. No I won't. Now you've just wasted my time, my brain space and capacity to put my neurons towards other uses. I do not, I repeat I do not have to explain to you my choices of why I don't do things on the no list etc. It's not your business.
Read my blog/website…learn a little bit about me and what I'm currently about…this will insure that you receive timely responses to the emails you send and a video I can agree to produce that tickles both our fancies.
Many producers receive a lot of emails, it's helpful but not necessary to send a small token or appreciation when emailing. A tribute or gift card somewhere. This shows that you are indeed serious about a custom video, skype session, clothing purchase etc. I'm not all about nickle and diming people BUT sometimes it can get really daunting for a producer to respond to so many emails that never come to anything. One attached with a tribute can get a lot faster attention.
-attaching said tribute does not make you an alpha god, please act accordingly-as in not like a pompous asshole-
This really is not rocket science but I do admit that some of us don't think the same as others who may be more adept at communication. I've just been doing this for 9 years so to be things appear plain as day but for someone else quite murky. I hope you find this helpful. If you have further ideas you think would add to this blog posting leave a comment in the section below!
To sum this up, read about the producer, coordinate email with introduction, body, signature and be oh so thankful we all here in this industry like to cater to your kinks. 😉
All My Creative Links-Customs, calls, clips, texting, art:
Fan Club https://onlyfans.com/mistressvictorialynn…
Clips, Customs, Call https://iwantclips.com/store/2616/MistressVictoria…
Text/Call https://sextpanther.com/MistressVictoriaLynn…
Call/Chat https://niteflirt.com/MissVikkiLynn
Clips https://clips4sale.com/studio/75307
Clips/Customs/Art https://manyvids.com/Feed/MistressVictoria/1004340444